Posted on
By Emmanuelle B.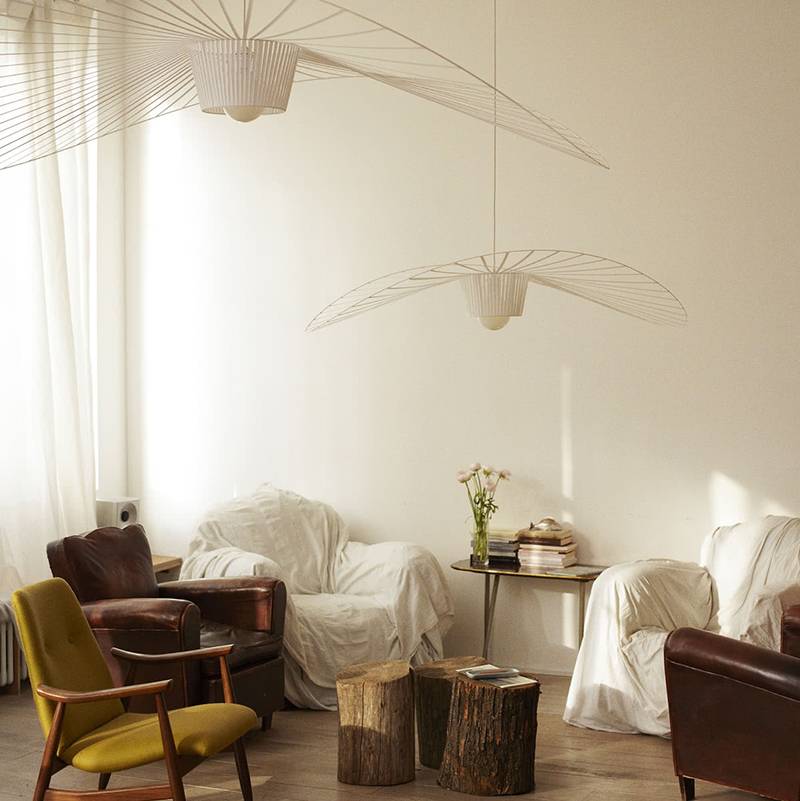 Nowadays, vintage is everywhere! If you love the idea of vintage pieces but are afraid of feeling as though you live in a flea market, here are some thoughts around incorporating vintage or antique pieces within modern design.
You're not going to spend your whole life living in the same house, let alone your parents house or even grandparent's house with all of your family souvenirs. But to keep that legacy alive and with you, you can take your grandpa's armchair or your father's desk and keep it in the family for many generations to come. Remember, you don't want to live in a home that's stuck in the past with only vintage or rustic furniture. The real beauty lies where past meets present— a generational rendez-vous. I love to see my son playing under the same table I used to play with, and I love designing my own interior by adding newer, modern pieces to the collection.
The issue I have with trends is that they change almost every year. If you design a total look complete with the all the latest trends, you can be sure that in one or two years time it will be dated.
The strength of a home's décor lies in its mix of styles, which keeps it from ever becoming dated! Make your home feel warm, comfy and personal to you by incorporating your vintage family pieces with modern design. In doing so, your interior will truly be unique!
The mixture of styles will be the trend itself. Eclectic interiors last the longest and give you the freedom to change pieces of furniture every once in a while, as everything doesn't need to be coordinated. You'll have conversational pieces and you can be sure that everybody will feel at ease in your home.
If you want to get started incorporating vintage pieces into your home, here are some tips:
1-Afraid of mixing color? Stay in a family of colors and that you can mix  with natural materials like leather or marble .
LC6 Table Le Corbusier with Fornasetti style chairs, RONIN Chair (La Chance), RAR chair Eames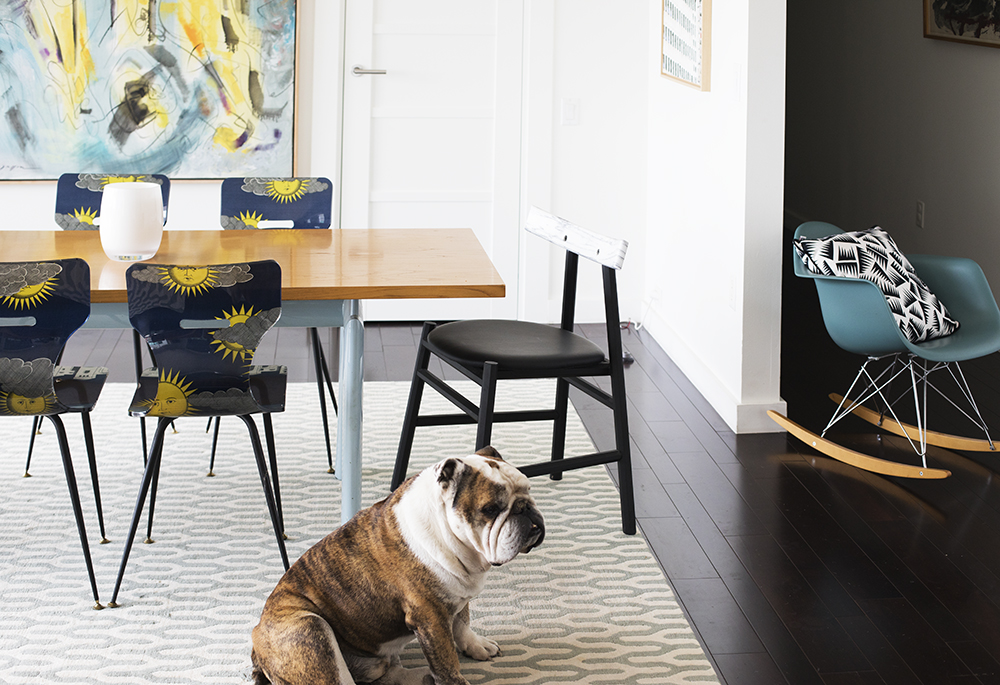 2- If your vintage piece has very simple, clean lines, be bold and put it next to a more modern statement piece, overhung by a dainty pendant light.

Mid-Century modern buffet, Borghese sofa (la Chance), Flos light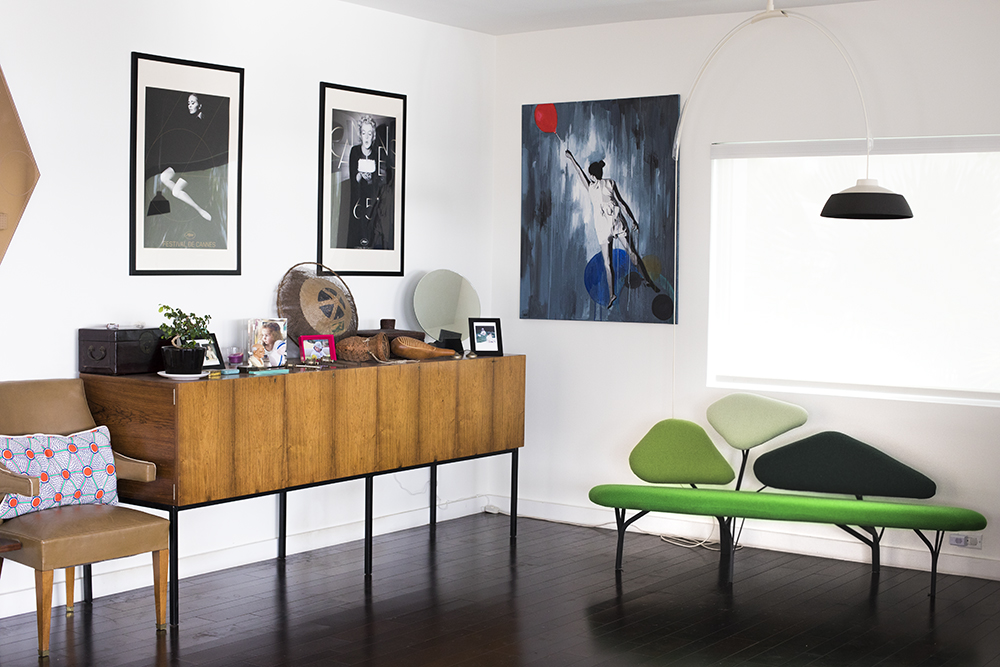 3-Cement tiles in a very modern white kitchen will create a welcoming and warm ambience in your home.

4-Industrial style and finishes, found in a lot of modern design, can be mixed with almost everything. Rosalie Chair (Harto), Mask wall Mirror (Petite Friture)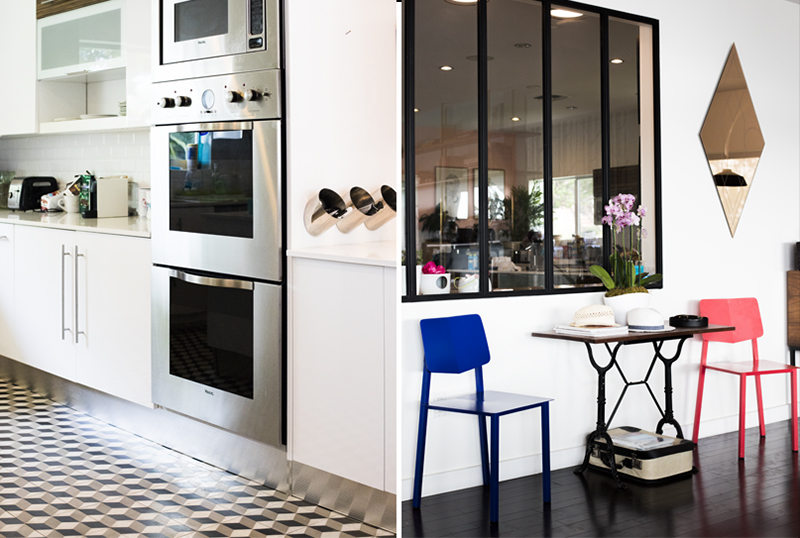 5- If you are working with a more heavy and dark classic ambience, you can bring light and color into your space with modern pieces that have clean and simple design.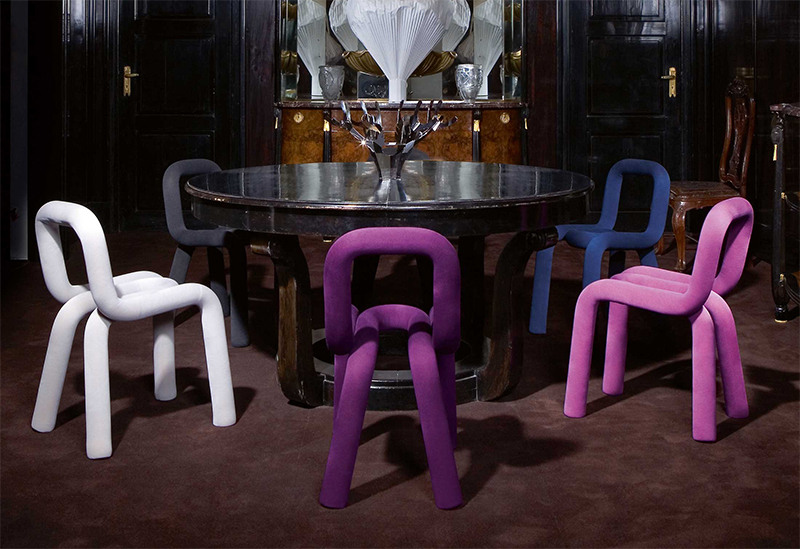 6- The Vertigo pendant light is so delicate and light that it can be mixed with any style; classic, rustic, industrial or modern, the options are limitless. Vertigo lamp (Petite Friture)